Virtual supermarkets
Nowadays, we have less time than ever to go to the supermarket. This is the main idea behind Tesco's new advertising campaign in South Korea.
Tesco is the second biggest supermarket chain in South Korea, and has decided to start an innovative advertising campaign to increase internet sales. Most South Korean citizens have smartphones, with camera and internet connection. Tesco has taken this in mind while creating a new shopping system: the walls of some subway platforms have been covered in posters that resemble supermarket shelves. Next to each item, the buyer can find a QR code that, when scanned with a mobile phone, adds the product to the user's virtual shopping cart. The user can complete his grocery shopping from the subway platform, and pay from his mobile device. Later that night when he gets home a delivery man will bring all the purchased items to his doorstep.
This new shopping system takes advantage of new technologies included in smartphones to help Korean citizens save up time and, at the same time, has increased the chain's internet sales enormously.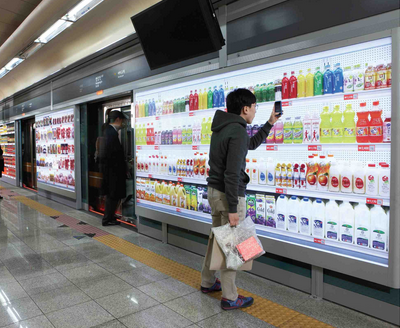 image credit: Tesco